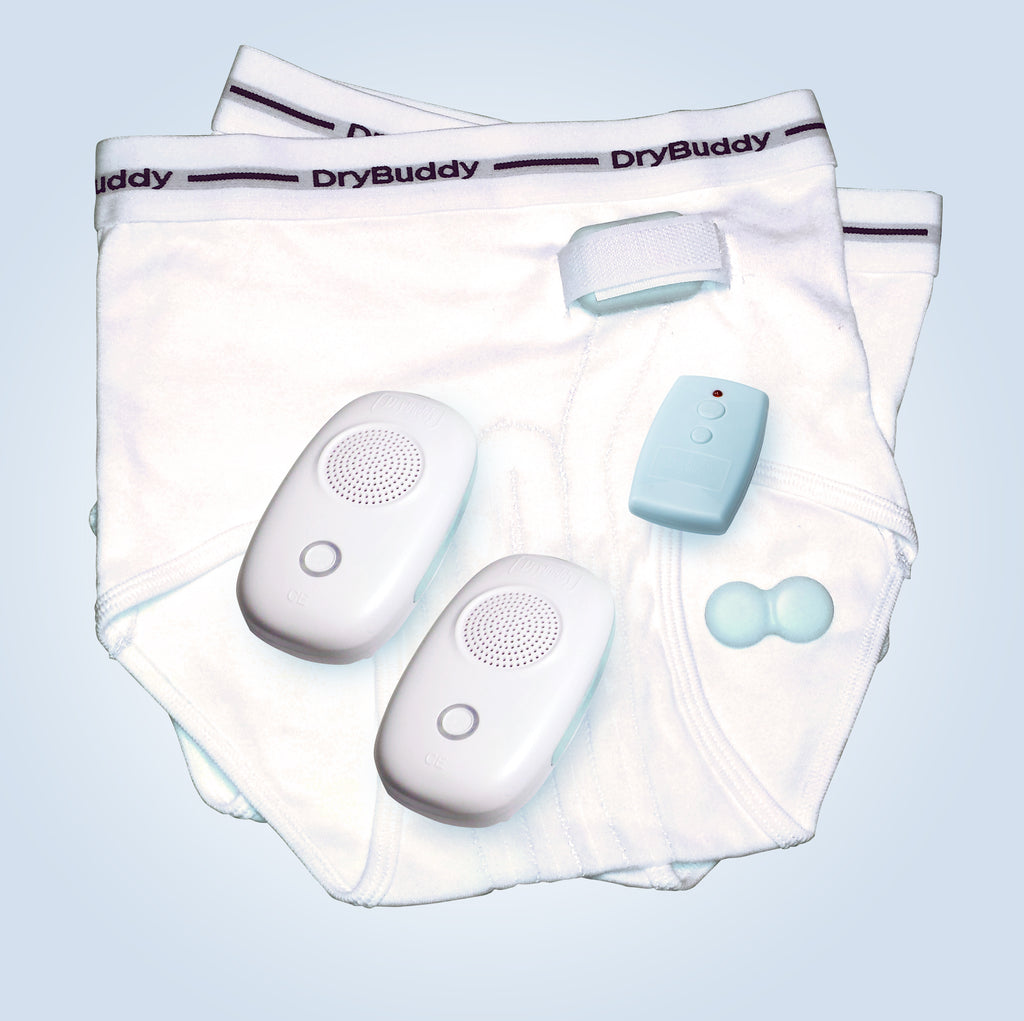 DryBuddyFLEX 3 Complete Long-Range Wireless Wetness Sensing Briefs System with 2 Transceivers (Alarms) and 2 Briefs
Drybuddy
Details
Details
The DryBuddyFLEX 3 Long-Range (up to 200 ft / 61 m) Wireless Briefs System includes the DryBuddyFLEX 3 magnetic sensor system with two (2) DryBuddy wetness sensing briefs. It includes DryBuddy's unique and patented true-wireless magnetic sensor which can also be used with standard cotton briefs, one wireless Wetness/Urine Sensor with "cap", one DryBuddyFLEX Transceiver for the patient's room, one Transceiver for the parent/caregiver's room, and one wireless Remote to help control and reset the system. The DryBuddy Wetness Sensing Briefs provide exceptional comfort and reliability. Use throughout the house and over very long distances with additional transceivers and customizable alarms. Monitor and control the DryBuddyFLEX 3 system at multiple locations. Uses AC for power and comes with U.S., E.U. and U.K style plugs. One (1) year limited warranty on the system, and six (6) months limited warranty on the briefs. 
These briefs will last and work for long periods of time if care is taken with their use. Breakage by pulling off the snaps is not covered. 
Very easy to use, convenient and reliable. Perspiration resistant. Very easy and convenient to clean.
DryBuddy is well known as the designer and creator of the most innovative and convenient wireless bedwetting alarm systems.
Used for bedwetting, bedwetting alarm, bedwetting alarm system, enuresis, enuresis alarm, incontinence, incontinence alarm, pee alarm, urine alarm, bed alarm for bedwetting, kids bedwetting alarm, bedwetting monitor, bladder control, urine control, underwear alarm. Provides wireless bedwetting alarm, true wireless, magnetic sensor, mobility, convenience, flexibility. Used by boys, girls, children, kids, adults, elderly, children, kids, adults, elderly. Wireless bedwetting alarm reviews. Bedwetting alarm comparisons. Compare bedwetting alarms. Get better features, value and conveniences by using in place of Rodger wireless, Clippo, Malem, Malem bedwetting alarm, Malem ultimate, Chummie, DRI, Dry-Me, DryEasy, Dr. Madre, Nytone, Therapee, wet-stop3, wet-stop, Chummie premium, Chummie elite, Shield bedwetting alarm.
Additional Info
Additional Info
| | |
| --- | --- |
| Weight (oz) | 30.0 |
| Manufacturer | Drybuddy |
Reviews