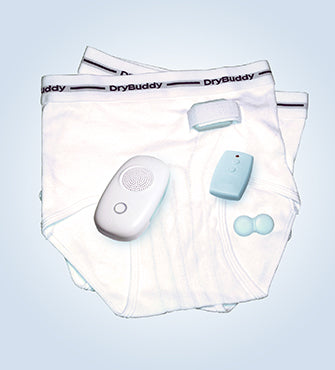 Sale
DryBuddyFLEX 3 Wireless Wetness Sensing Briefs System with 1 Transceiver (Alarm), 2 Briefs, Magnetic Sensor & Remote
Drybuddy
Details
Details
Experience the ease-of-use, comfort and convenience of the DryBuddyFLEX 3:
Feature-rich, offering many abilities and conveniences for successful use.
Set up the alarm how you want to use it. Use it very conveniently with one-button or Remote simplicity.
The extremely long-range transmission of up to 200 feet(61 meters) provides great flexibility and convenience in using and monitoring from anywhere in the house.
Use with exceptional comfort and confidence.The DryBuddyFLEX has the smallest, lightest and only water-resistant sensor/transmitter in the industry. This is the only item worn on the patient's body or clothes and provides unmatched comfort and safety from damage by liquids.
Enjoy the comfort of not wearing any alarm box on the body or clothing.
Innovation and Technology to help the user and caregiver:

Patented Magnetic Sensor (Patent # 7808392).
Patented Wetness Sensing Briefs (Patent # 9140658).
Patented ability to send wireless transmissions throughout the house (Patent # 9147333),
The only wireless bedwetting alarm with a Remote for the user's and caregiver's convenience.
.DryBuddy Wetness Sensing Briefs:
DryBuddy's wetness sensing briefs are reliable, very comfortable and easy to use. Much easier and more comfortable than when any sensor is attached to regular briefs.
The patented wetness sensing briefs offer a very large area for sensing wetness. No more worrying about whether the sensor has been placed correctly as the wetness always gets sensed!
Children wear the briefs and attach the sensor at the waist in a few seconds, even in the dark. It's that simple!
The DryBuddy briefs have a patented arrangement of "redundant" sensing threads so that if a thread breaks, the briefs may still function. The briefs have a six months warranty. Breakage by pulling off the snaps is not covered by the warranty.
The briefs are available in sizes to fit 22"/56 cms through 38"/96 cms.
Measure the briefs' size at the waist (belly-button).
 Magnetic Sensor:
The patented magnetic sensor can be used with regular cotton briefs or with the special DryBuddy wetness sensing briefs.
The sensor is very easy to attach and attaches firmly every time, while preventing damage to the briefs.
Integrated wireless transmitter is one unit with the sensor. This small, lightweight sensor is the only device in contact with your child or patient or their clothing. Very convenient and comfortable!
The sealed sensor will not be damaged by liquids, so there are no worries about damage during use or cleaning.
Cleaning and drying the sensor cannot be easier, as the surface of the sensor is completely exposed. Wash and clean with soap and water, dry with a clean cloth. It only takes a few seconds.
Sealed water-resistant sensor/transmitter with sealed battery and battery life of over 2,000 triggers under normal use.
 Remote Control:
The wireless remote makes controlling the DryBuddyFLEX much easier and more convenient.
It makes using the bedwetting alarm extremely easy for yourself and your child or patient.
By using the Remote, you can verify that your child gets out of bed when the alarm sounds.
You can also determine if the alarm has been switched off before it activates. Better control over a child who may switch it off and then claim that it did not work.
 Transceiver/Receiver:
The wireless receiver (called a Transceiver) both receives and re-transmits signals from the Sensor and the Remote. Signals can be received throughout the home. Transceivers can provide additional alarm and control locations for convenience and monitoring.
The Transceiver contains the audio alarm, and also powers the optional bed-shaker which directly plugs into it.
The wireless transmission range between Transceivers can be up to 200 feet (61 meters).
The DryBuddyFLEX has an extremely loud and effective alarm, and has a 5-steps volume control, plus a silence
The built-in audio alarm sound level can be as high as: 97.2 dB at 8 inches (20 cms), 91.5 dB at 2 feet (60 cms), 86.4 dB at 5 feet (150 cms). Compare this loudness with many alarms that provide a mere 85 dB at 8" (20 cms) or even less. Control the loudness to what you want.
This very loud sound allows the Transceiver to be placed at a distance from the patient and provides easy monitoring.
You can select between two sounds – a trumpet fanfare and a Berlin police siren – uplifting or serious. No cheap electronic tweets and beeps!
The Transceiver uses 120-240V AC power from a power supply that plugs into a standard U.S., E.U. or U.K. wall electric outlet. It can be used in almost any country.
No batteries or other supplies are needed, saving money and hassle.
DryBuddyFLEX 3 Optional Alarms:
For very hard-to-wake children or patients, add a Bed-Shaker for extremely strong vibrations, much stronger than any battery powered alarm. It is turned On or Off together with the alarm.
The bed shaker attaches to the power socket at the back of the transceiver and is switched ON/OFF with the audio alarm in the transceiver.
Place the bed shaker under the user's pillow or between the mattress and its support base mattress.
It is almost impossible to ignore.
Add additional alarms (Transceivers) in other parts of the home for your convenience. Perfect for silent monitoring and remote control from a distance.
DryBuddy is the leader in Wireless Bedwetting Alarms Innovation and Technology! Why make do with something much less
Compare the DryBuddyFLEX 3 with any and all other bedwetting alarms for features provided, ease-of-use, comfort, convenience and total value. It's no contest!
Wouldn't you rather have a DryBuddyFLEX ?
DryBuddy is well known as the designer and creator of the most innovative and convenient wireless bed wetting alarm systems. Used for bedwetting, bed-wetting, bed wetting, bedwetting alarm, bed-wetting alarm, bedwetting alarm system, enuresis, enuresis alarm, incontinence, incontinence alarm, pee alarm, urine alarm, bed alarm for bedwetting, kids bedwetting alarm, bedwetting monitor, bladder control, urine control, underwear alarm. Provides wireless bedwetting alarm, true wireless, magnetic sensor, mobility, convenience, flexibility. Used by boys, girls, children, kids, adults, elderly, children, kids, adults, elderly. Wireless bedwetting alarm reviews. Bedwetting alarm comparisons. Compare bedwetting alarms. Get better features, value and conveniences by using in place of Rodger wireless, Clippo, Malem, Malem bedwetting alarm, Malem ultimate, Chummie, DRI, Dry-Me, DryEasy, Dr. Madre, Nytone, Therapee, wet-stop3, wet-stop, Chummie premium, Chummie elite, Shield bedwetting alarm.
Additional Info
Additional Info
| | |
| --- | --- |
| Weight (oz) | 19.0 |
| Manufacturer | Drybuddy |
Reviews